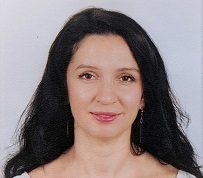 Hristina Gaydarska
PhD
Uehiro Research Fellow
Field:Public policy, International Economics, ICT, Equalities
My research interest is exploring the interlinkages between the ethical and economic aspects of emerging biotechnologies for promotion of their clinical translation. I have been working on the dynamic changes in the polarity of values in bioethics, which extend beyond the tangible value and cost from the ethical, social, and policy perspective. I would like to explore the potential of forms of cooperation and competition in the development of new drugs for intractable diseases and personalized medicine using iPS cells.
Biography
2006 BA in Philosophy, Sofia University, Bulgaria
2007 Chief expert, Ministry of Economy and Energy, Sofia, Bulgaria
2009 MA in Economics, Sofia University for National and World Economy, Bulgaria
2009 Senior expert, Ministry of Economy, Sofia, Bulgaria
2011 MA in Public Policy, National Graduate Institute for Policy Studies (GRIPS), Tokyo
2016 Research Assistant, GRIPS, Tokyo   
2019 PhD in Public Policy, GRIPS, Tokyo
2020 Postdoc Fellowship, Research Institute of Economics and Business,
     Kobe University
2022 Researcher, Uehiro Division for iPS Cell Ethics, CiRA, Kyoto University
Research activities
Selected publications
Raz A, Minari J, Takashima K, Gaydarska H, Hashiloni-Dolev Y, Horn R. Old and new challenges regarding comparable and viable data sharing in population-scale genomic research. European Journal of Human Genetics. 2023; DOI: 10.1038/s41431-023-01355-3.

Gaydarska H, Akahira H, Xing Y. 2022. The US-China trade war and its impacts on the supply chains of the American Auto Industry, Background paper for Global Value Chain Development Report 2023.

Gaydarska H, Matsuo M. 2021. Do ICT Development and Technology Use Decrease the Demand for Business Travel? Discussion Paper Series DP2021-10, Research Institute for Economics & Business Administration, Kobe University.